Written by Kevin McNeil of Aylmer Lake Lodge
If you're looking for something secluded and what you might describe as "otherworldly", where the land is the epitome of "untouched", Aylmer Lake Lodge fits the bill perfectly. Fishing trips here, where the land is barren and flat, yet full of exotic life (at least for us "southerners") and humongous skies are true experiences of a lifetime. The Lake Trout are enormous and plentiful, and the and the lodge is more comfortable than you would expect for someplace so remote.
Aylmer Lake Lodge is a family owned and operated lodge. We are located on Aylmer Lake, which is located on the barren lands in the north east corner of Canada's Northwest Territories. Kevin (myself) and Patti (my wife) are the owners, we are always onsite as we love summer and fall on the barren lands and we love being your hosts during your visit at the lodge. We, together with the rest our family and staff, are dedicated to making your stay at Aylmer Lake Lodge one that you will want to return to and will be one of the memories that you will remember for the rest of your life.
Aylmer Lake Lodge is situated 230 air miles North East of Yellowknife flying by the iconic travel of the north in a float plane. These planes opened up the north and continue to service the northern locations to this day. We are located in Rocknest Bay on Aylmer Lake (Tåa Gai Tué) which is located 60 miles east of Canada's first ever designated Wildlife Sanctuary called the Thelon.
We are 60 miles from the Arctic circle, past the ring of fire so we must look south to see the northern lights. Our location in Rocknest Bay on Aylmer Lake makes Aylmer lake Lodge the perfect barren-lands wilderness fishing retreat. Boasting a world-famous fishery for lake trout and arctic grayling. This pristine lake and many un-named free stone rivers are located within this beautiful barren-land setting. We are the only buildings or boats on 1,000 sq miles of water, we are the only lodge located on this exclusive lake and rivers we access. You will be the only guests fishing the waterways. Our waters have never been commercially or aboriginally net fished as we are too remote. This means the fish supplies are plentiful having never been exposed to fishing pressure.
The Thanakoie River and the Thonokied (Earl Grey River) flows through the wild barren-lands full of captivating landscapes and wildlife. Meandering down these rivers, you will discover barren-ground caribou, muskox, barren-ground grizzlies, moose, arctic wolves, wolverines, arctic hares, eagles, parasitic yeager birds, arctic peregrine falcons, locations of native tent ring camps perched atop sand eskers located on some of the oldest rock on the planet. This is why we are considered by many who have visited and recreated in the Northwest Territories numerous times, as having the "whole package". We have unique scenery, unique wildlife and bird life, incredible plentiful fishery with seven sub species of lake trout some crossed with arctic char. Like us, these people are searching for that pristine, ultimate fishing and nature experience trip in Canada. In the words of one of our clients, "You have the best spot on an extremely rare pristine lake! I have fished all over Canada for over 36 years since 1984 and if I had to pick just one place and only one to go back to, it would be your lodge on Aylmer Lake!"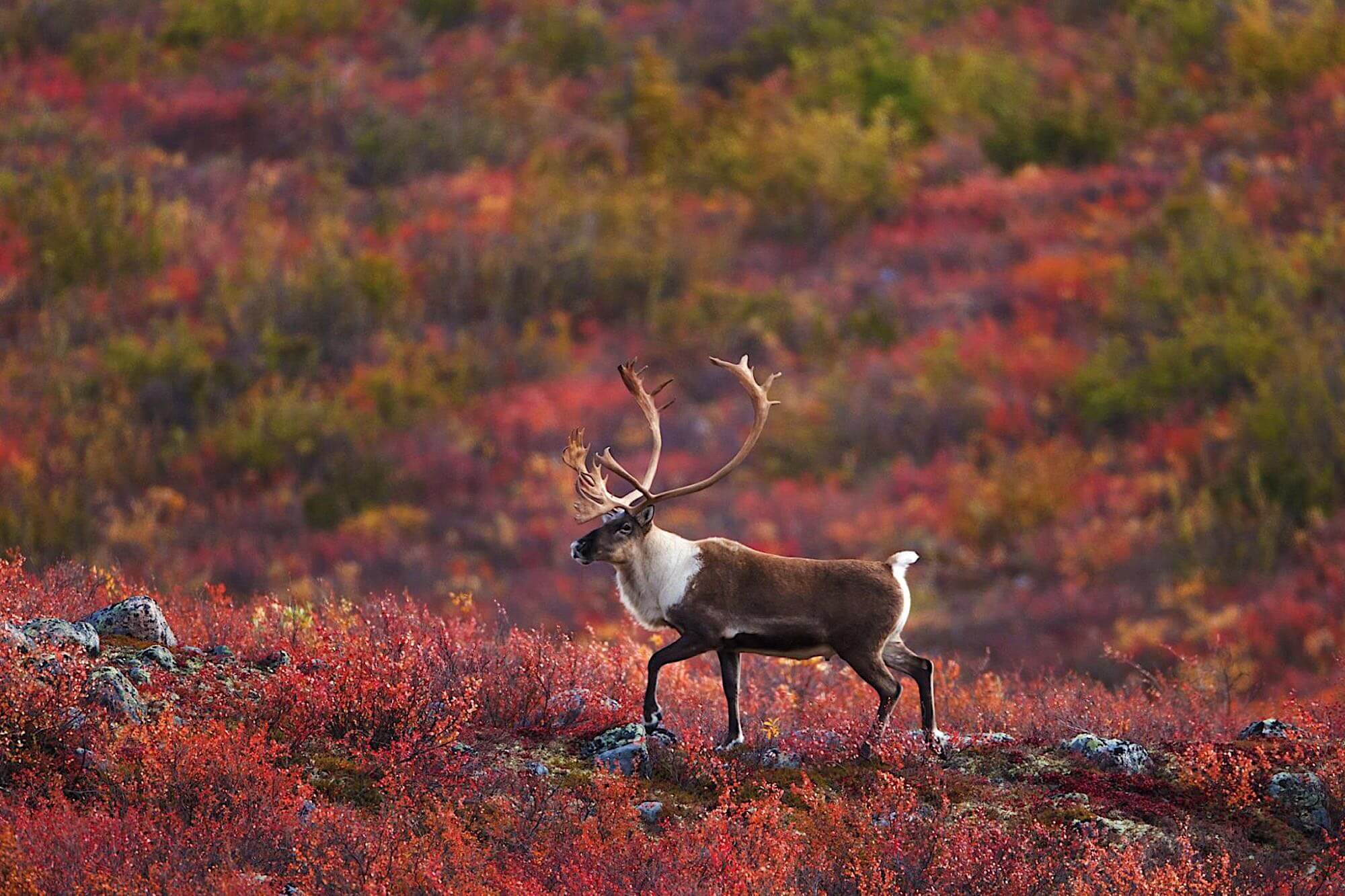 Every fly fisherman should visit the Northwest Territories
You can successfully fish lake trout all season at our lodge—it's been proven by the Bowriver Trout Outfitters out of Calgary. For many who love to lake fish, Canada's north just screams adventure destination and has always been a dream destination. Some only envision coming once in a lifetime. But once you get up here and experience all of what we have to offer, it will be very hard to stay away.
There is something about catching a huge Lake trout or chunky arctic grayling, surrounded by pristine wilderness that is a unique barren-land beauty beyond compare, that we believe calls to the deepest part of our souls. Aylmer Lake Lodge located in the NE corner of the Northwest Territories is one of the "must do" destinations that has to be on the "Bucket List" of every fly fisherman on the planet. I know it was for me! And once I got a taste of it I was "hooked"!
Now we own one of the premier fishing lodges in the Northwest Territories on one of the most pristine and highly esteemed and incredibly prolific sport fishing areas in all of the Northwest Territories. Our location is a truly pristine wilderness area, due to the remoteness—we are far away from the crowds and any modern intrusions. ZERO combat fishing to be found here. You will never see another fisherman that is not staying at our lodge!
This is a true outdoorsman's paradise, with crystal clear lakes and rivers full of hard fighting fish that are eager to grab a well-presented wet or dry fly! And we have well over 1000 square miles of lake and multiple rivers accessible by boat right from our lodge, with no need for expensive fly outs to find good fishing. What more could you ask for?
For those who have never heard of Aylmer Lake Lodge, you could be forgiven for not realizing how this region stands head and shoulders above the rest. Those "in the know", have discovered that Aylmer Lake, in the Northeast corner of the Northwest Territories, is hands down the best fresh water lake trout fishing on the planet. And the Thanakoie River stands proud among its peers as a "Gem in the Crown" of Northwest Territories.
Fly fishing in Northwest Territories is more than just a sport or passion – it's a way of life. And like us, once you have that first huge tug from these feisty fish, you're "hooked". So beware—fish the Thanakoie River at your own peril, because once you've been there, one time will never ever be enough. This is attested to by our many clients that come back every year to get their "fix"!
A stay at Aylmer Lake Lodge provides you with one of the most remote and stunningly beautiful locations on the planet to experience the very best of what Canada Fly Fishing has to offer. Whether it be the sensation of a 40-50lb lake trout pushing your rod to its limits or watching a 20 plus-inch arctic grayling rise to crush a mouse pattern that was tied the previous evening while sipping a cold beverage, or just the feeling that very few have ever fished these beautiful waters before; it has to be said that fishing on the Thanakoie River is something very special.
Being on the remote waters brings us back to the reason we started fishing in the first place when we were children. For the sheer excitement and joy of it! For the thrill of hard hit and a tight line, and the sound of a reel's drag just screaming!
Catching fish at Aylmer Lake Lodge is just a bonus and catch them you will—in great numbers. We are home to what is one of the largest lake trout and arctic grayling fisheries to be found anywhere in the world. Aylmer Lake Lodge has the very unique privilege of offering the discerning sport fishing enthusiast one of the most dramatic dream destinations on the planet.
While staying at Aylmer Lake Lodge, you will have to constantly remind yourself to stop and BREATHE and appreciate the barren-land scenery because the fishing is so great. You may have heard the saying "it's called fishing not catching"; but a stay at Aylmer Lake Lodge it often seems like catching, not fishing!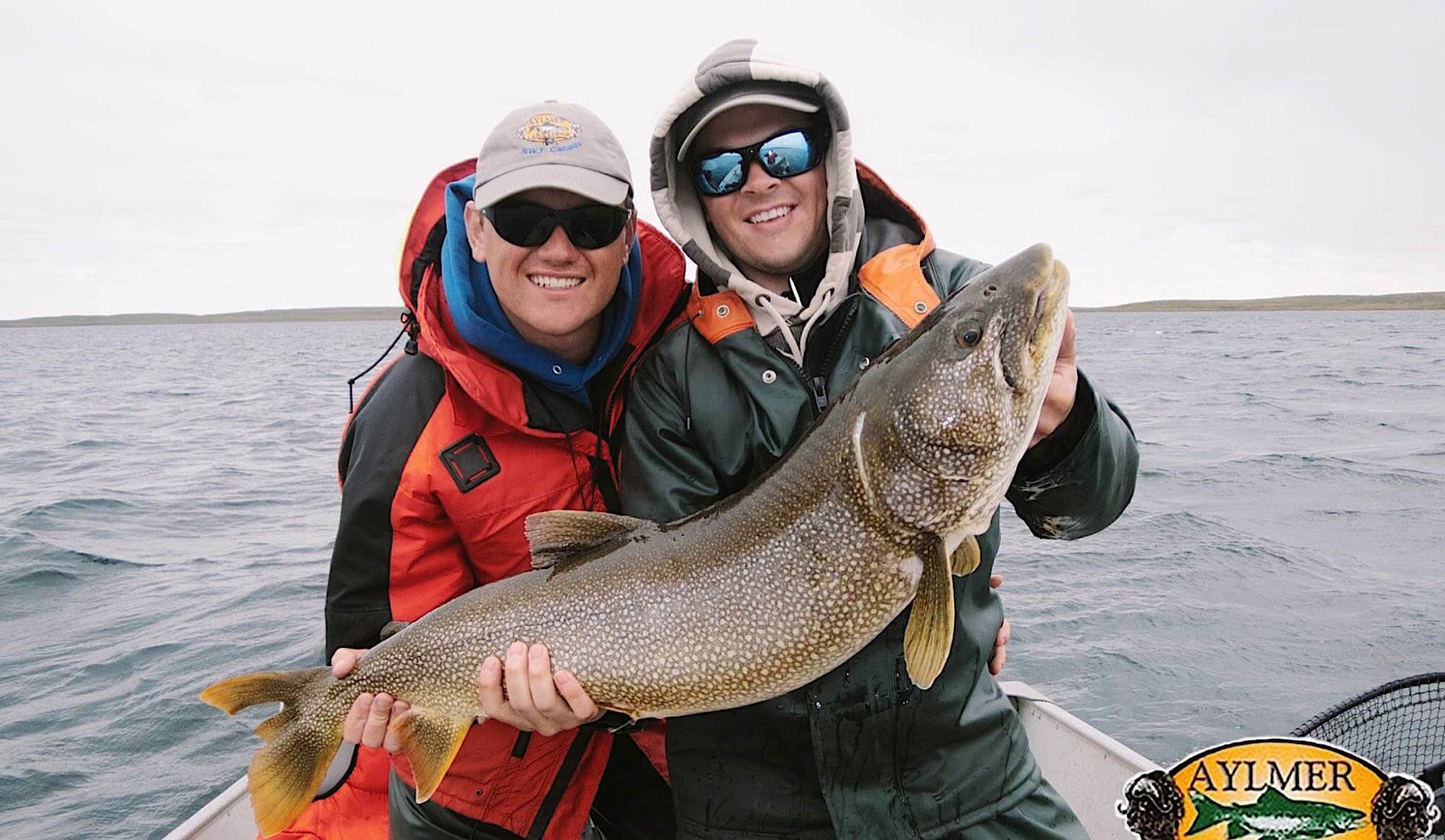 We are open for business from July 4, the ice is gone from the lake and rivers and we stay open through mid September. Although this is only a short period of time of approximately 14-15 weeks, you would be amazed at how the season changes from one week to the next. What grows in a month for plants and vegetation in the lower 48 only takes a week or less in the north with the 24 hour daylight. You could actually come up to us 4 or more times in a single season and feel like you are fishing a different lake or rivers each time. That's how rapidly the vegetation moves through its cycle creating the visual scenery changes and fishing patterns on the barren-lands.
Aylmer Lake Lodge has four distinct season variations within our fishing season. Trophy fish (Lake Trout, Arctic Grayling, and Whitefish) are caught during the entire summer, but each variation offers an edge to different types of fishing – pick the season variation that best matches the type of fishing that you want to do while fishing Aylmer Lake Lodge.
Early Season, July 4 - July 20: "Shallow Water fishing"
Lake trout during the early season are seeking the shallow warmer water and its fun to sit in, stand in, or troll through the sun baking sand flats where fishing is at its best, the barren-land arctic is in it's spectacular fresh spring growth season. Expect to see large hatches of midges—the lake trout are gulping these insects off the surface Lake trout cruise the shallows and grayling come alive in the lake and rivers. If your primary objective is huge shallow water trophy lake trout, an early season trip is definitely for you.
Mid Season, July 20 - August 15th: "Trophy Fever"
If you're looking for the Trophy and the best overall fishing for all of Aylmer Lake Lodge fish, mid-season is the choice for you. Long, warm days and all seven of the lake trout species are hungry and accessible to the fly angler. The fish spend their time in shallow depths anywhere in the lake, water is crystal clear and these fish are avid surface feeders all summer long.
Late Season, August 16th - 31st: "Slab Heaven"
Cooler days signal that Aylmer Lake and Clinton-Colden Lakes giant Trophy Lake Trout are on the move onto key reefs to spawn. These big, beautiful fish migrate to the shallow rock boulder reefs ensuring a high rate of survival for their superior genes. Remember the water is crystal clear and you can see these linkers chasing your flies.
End Season, September 1st - 15th: "Fall colours"
September is spectacular for fall colours, incredible northern lights, muskox in the rut, and cariboo in migration. Fishing continues with our trophy lake trout and grayling as they have fattened up from the hot summer days feeding in the lakes and river. As you navigate the waterways you are watching late fall getting ready to move into winter. We are swinging articulated streamers in white and pink patterns for the big lake trout at the end of the season.
How do you get to our lodge?
The major destination hubs for Yellowknife are out of Ottawa, Calgary, Edmonton, and Vancouver. Ideally, you arrive in Yellowknife the night before, allowing you to tour Yellowknife and spend the night in your hotel room, flying into the lodge the next day. Ensure you book your hotel room for your return trip home, as you may not make commercial flight times out the same day.
There are no roads out to Aylmer Lake Lodge, so guests will need to take a float plane flight that is included in your trip cost—we arrange your flights from Yellowknife to the Lodge and return back to Yellowknife. These flights will land on our lake right in front of the lodge. A friendly local air charter called Air Tindi handles all flights to our Lodge. All of their pilots are highly experienced and their aircraft meet the strictest safety regulations. So just sit back and have your camera ready for an incredible flight over the boreal forest then into the barren lands.
On departure day we strongly encourage our guests to schedule a flight out of Yellowknife for the following day. Float plane flights are not like commercial flights—there is plus or minus on their schedules. Staying overnight is advised in order to not miss your connecting flights…as I'm sure you can imagine, weather can occasionally cause delays in the far north of the Northwest Territories.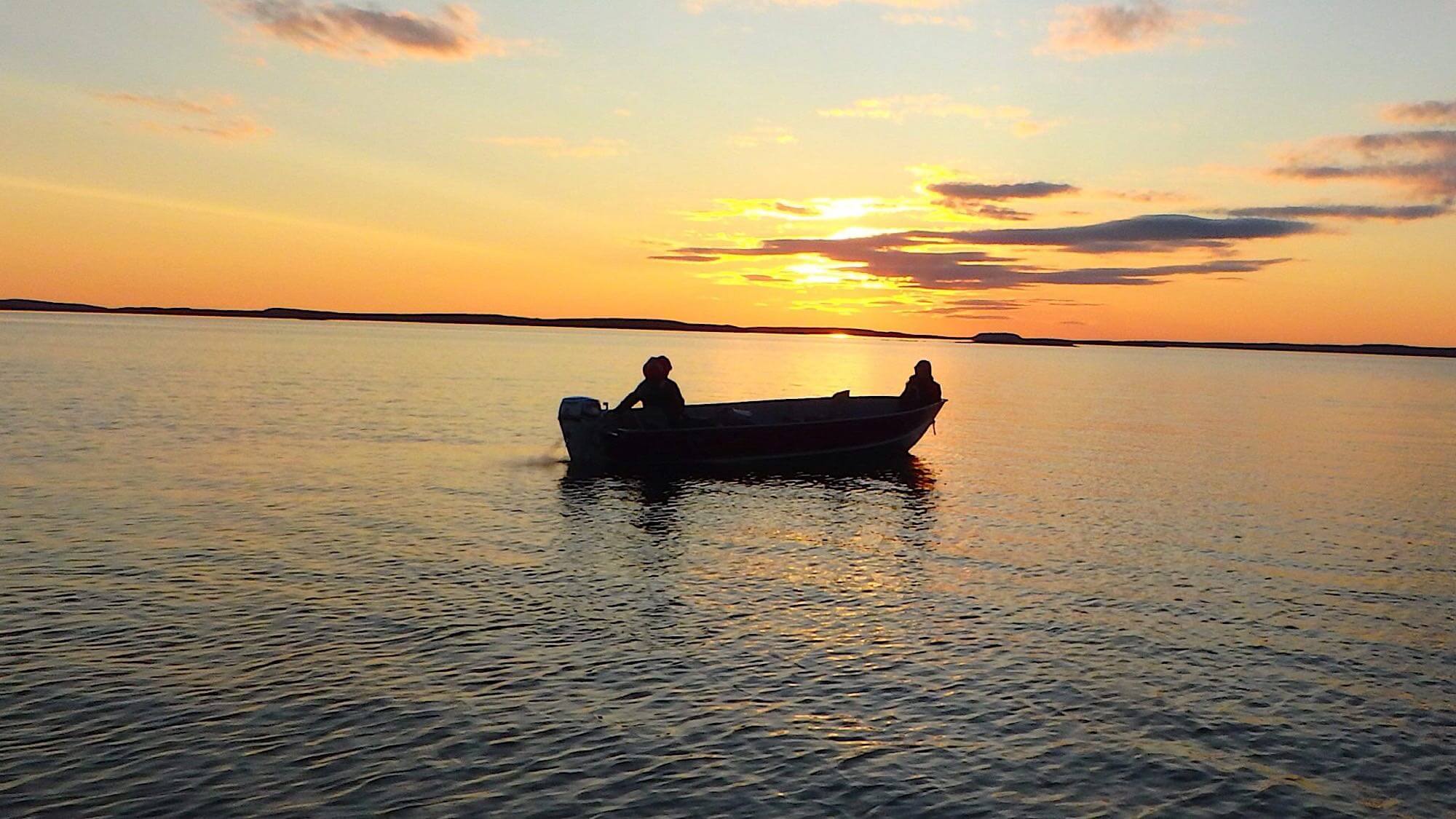 What kind of fly-fishing gear should anglers bring for a trip with us?
Dry fly and streamer fishing is employed all summer. This is a great time to target both lake trout and grayling. Anglers will mostly be using a single hand rod for this—a 5 weight with a matching floating line for arctic grayling, and a 9 weight for lake trout.
Your personal choice of rod and line also depend on whether you are targeting lake trout or arctic grayling and whether we are fishing the lakes, larger rivers or smaller streams We will primarily use a floating or sink tip line. But it is a good idea to have on hand a wallet full of different sinking tips of medium to fast sinking rates that can be added to your line as the situation demands. As you can see there is plenty of variety and the fly fisherman who prefers to use a single hand rod or the angler who would rather spey cast, both will be happy.
What are the top 5 flies that should be included in our boxes?
Once again this will depend on the type of fish you would be targeting and the time of year you will be on the river. Dry flies that we use a lot for lake trout and grayling include Mice, Elk Hair Caddis, Parachute Adams, and Chernobyl Ants. My favorite mouse pattern is the Moorish Mouse, but the Mister Hanky is good too.
For lake trout, articulated lead eye or cone head Bunny Leeches, Dolly Llamas, Hareball and Polar Hareball Leeches are all good producers as well as various Intruder type patterns in pink, fuchsia, chartreuse, blue/ black; chartreuse/blue, blue/purple, pink/black, black, and olive; Egg Sucking Leeches in black, purple, and olive are good choices. For some top water action, especially with Lake trout, you should tie up some pink Polywogs and Wogs.
What is the program for a typical fly-fishing day?
Our general policy is that clients will go out together with 1 other angler per boat and their guide for the day. So the normal client/guide ratio is 2 clients to 1 guide. We always go with 2 boats to fish the same area for safety reasons. Breakfast is served at 7:30 am, your guides will be waiting for you at the boat dock with their boats prepped and ready to go at 9:00 am for a full day on the water.
You will spend an incredible day of fishing on the lake, Thanakoie river, or fish an unnamed river or creek. Lunch break can be on the shore or in the boat (you decide) but we recommend a leg stretch and health break mid-day. Then back to fishing until you are expected back at the Lodge at 6:00 pm. After that, you are welcome to spend more time fishing if you so desire. We have excellent shore fishing by wading into the lake near the lodge. We have a long shoreline at the lodge to enjoy the shore fishing.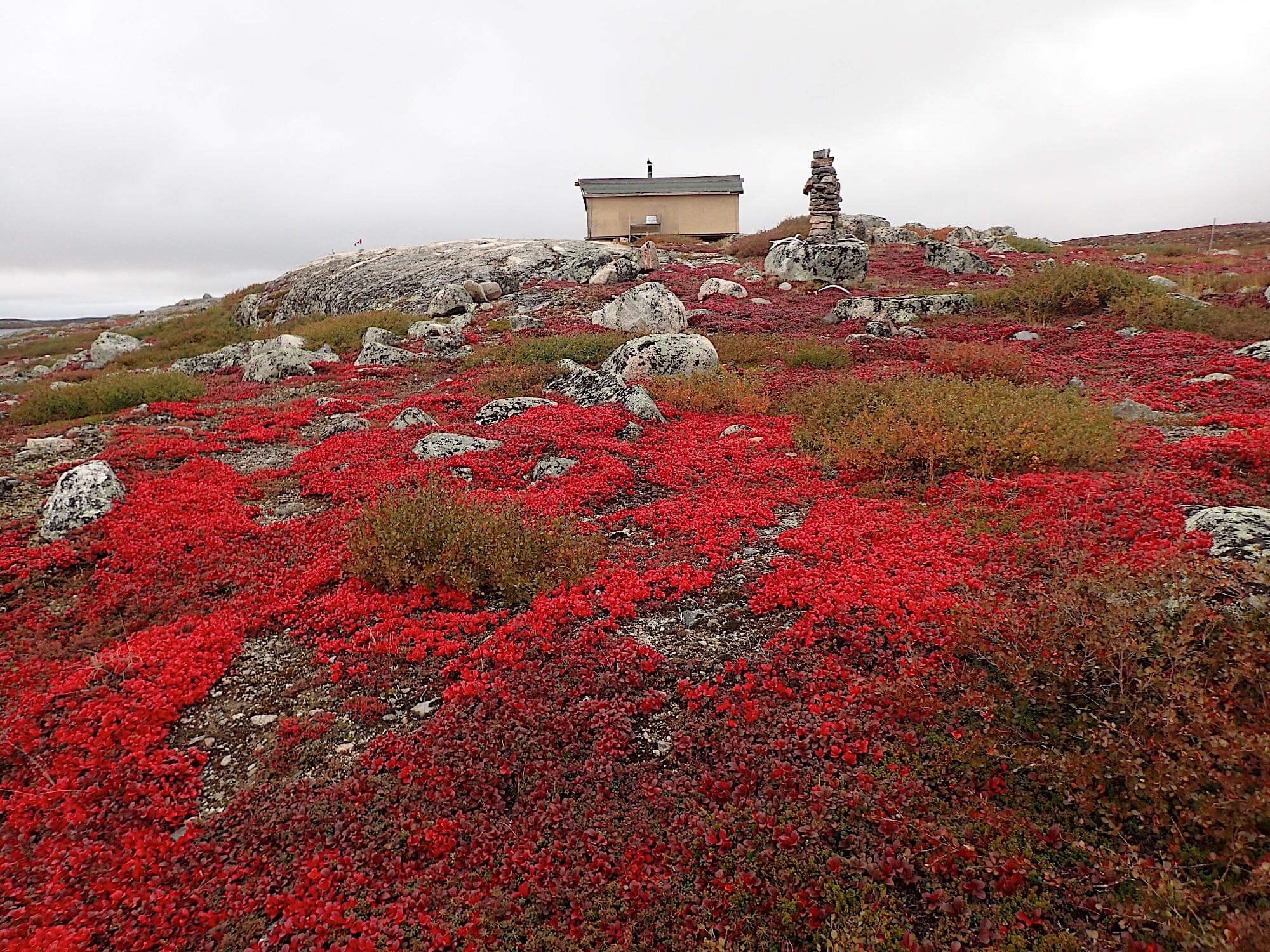 How is the lodge in terms of accommodation and facilities?
All of our guest cabins, including the main lodge, have spectacular views of Rocknest Bay on Aylmer Lake. Our welcoming wooden cabins are heated and have power that will guarantee your stay will be a comfortable one.
Our cabins all face the lake and sleep 3 – 4 people. The double cabin on the hill is perfect for larger parties accommodating up to 8 guests comfortably, with two bedrooms and a large area to relax and play cards while you visit. There you can take in the "Million Dollar View", where you can survey the lake and barren lands beyond.
The Dining Lodge is the centrepiece of the camp. This is where we have our meals, share stories and socialize after a day on the water. With a stunning view of the lake and surrounding barren-lands, this building really is the town hall of our little village. Tundra rock walkways connect all our private guest cabins (5) to each other and lead down to our naturally sheltered dock where a fleet of Lund boats are ready to access all the best fishing spots on the lake from the Lodge.
The lodge offers home cooked cuisine. Each morning begins with a hot breakfast. For lunch, fresh sandwiches, fruit, health bars, cookies are packed for the day on the water. Your guide will keep your sandwiches, along with a variety of snacks and refreshments, in his cooler until you are ready to eat lunch. Supper is served at 6:30 p.m. daily in the main lodge where you can view the lake and the unnamed river just a short distance across the bay and share your "Fish Stories" of that day's most memorable highlights.
The dinner menu will always have a meat of the day and fresh prepared fish, vegetables, large garden salad, condiments and desert. If you have any special dietary needs, please let us know in advance, so we can accommodate you.
The Lodge itself is on millions of acres of barren-lands on prime lake frontage of Rocknest Bay. The only access to the Lodge is via float plane, landing on the lake in front of the lodge. If you choose to stay connected to the "outside world", we have a satellite Wi-Fi internet connection available as well as a VOIP phone you are welcome to use. But we would encourage you to leave your cell phones and laptops at home and enjoy our pristine stunning scenery, abundant wildlife and experience a type of world class fishing that has always filled your dreams.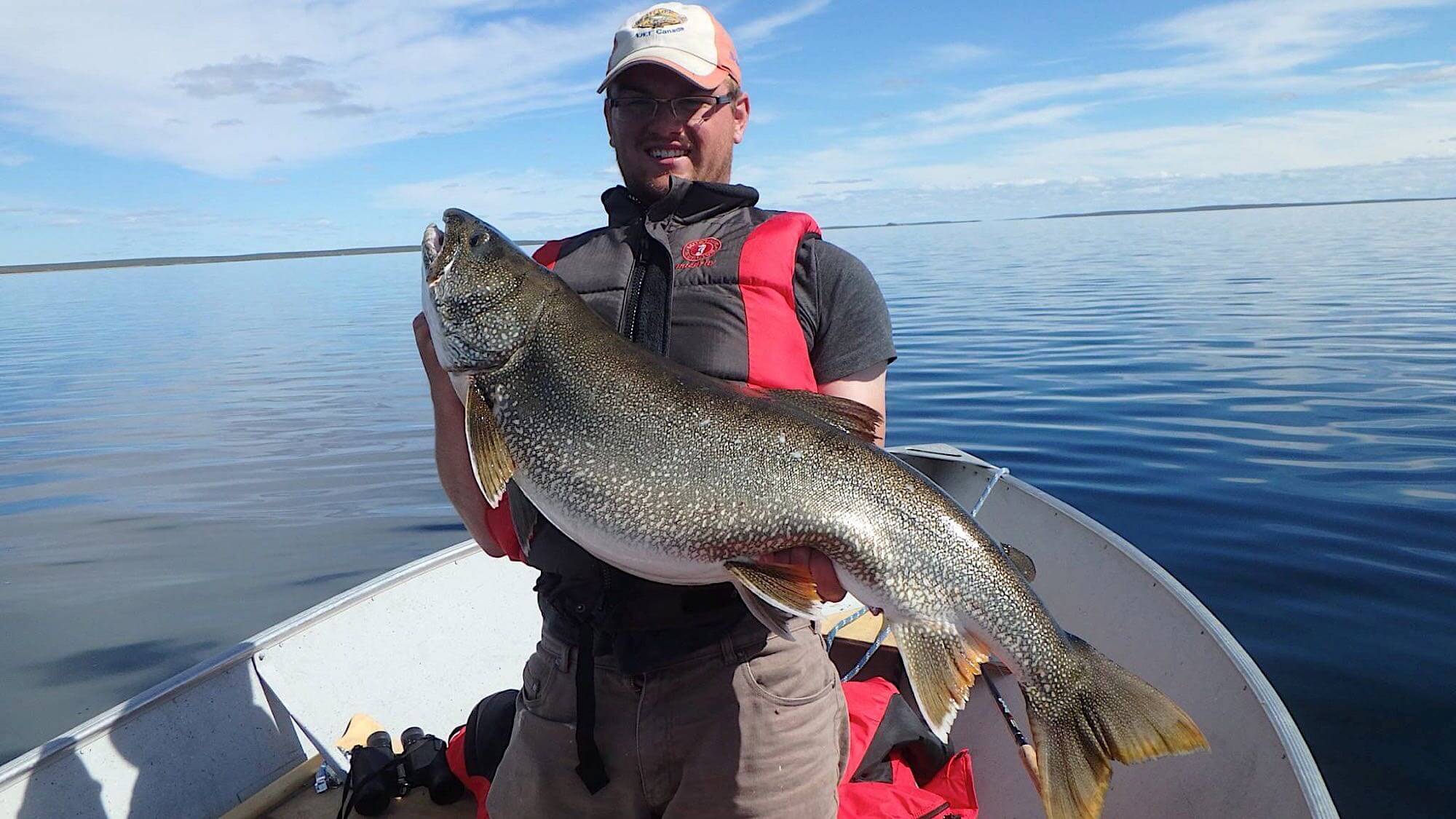 How much lead time should anglers contact the lodge for reservations?
We have become a very popular destination, with many return clients who are re-booking every year or every second year. Therefore, we are increasingly finding that people need to be thinking about booking their week with us up to 2 years in advance. This way you can ensure that you get the week of your choice. We may have openings somewhere in the schedule if you are planning last minute, contact us.
Any other advice for those visiting our area?
Make sure that you bring a good camera! The number of wildlife and nature photography opportunities at our lodge every year is outstanding, the light is just amazing. You will want to be sure to capture the many special "moments" that you will experience while with us at Aylmer Lake Lodge (not to mention a few photos of those big fish you will be catching)!