Do you know that kayak fishing is far better compared to fishing in a boat? Yes, kayaks are durable, stealthy, and compatible with water spaces you cannot reach with a boat or foot. You have to get into one to notice the difference and understand why they are most popular with anglers.
However, like the boat, you have to prepare your kayak before embarking on your fishing trip. Even though it's easier to prepare a kayak for finishing than you'd do to a boat, skipping these preparations might turn your fishing experience into a nightmare. Without a good setup and the right fishing equipment, you will fail. This article will discuss some tips on how to prepare the kayak for your first fishing trip. Here it goes.
Which Kayak is Best for the Fishing Trip?
As we all know, there are different types of kayaks, and not all are suitable for a fishing trip. As a beginner, you will require a kayak that's not only comfortable but one that will be stable on the water to aid your fishing experience. Therefore, before you start outfitting your fishing kayak with gears and other fishing accessories, you have to choose the best kayak for your trip carefully. Sit-on-top and sit-in kayaks offer the best experiences to anglers. However, sit-on-top kayaks are most suitable for warm weather fishing, while sit-ins are most suited for cold temperatures. You can, however, choose any depending on your preferences.
Once you have your best sitting mode, you also need to look at the kayak design. A fishing kayak should be a broader vessel to enable you to cast your line and reel the catch easily. Shorter kayaks are also good since you can easily maneuver them in complicated ponds and tighter water channels. They don't also have high speed, making them suitable for fishing. Your kayak should also have a vast storage space not only for carrying your fishing equipment but also for your catch.
You can also get yourself ready-to-use fishing kayaks, which come fully fitted with rod holders, mounting hardware, and additional storage compartments. However, getting such will be expensive if you still own other types of kayaks.
Kayaks Safety Gear
After getting your kayak and packing your fishing accessories, you have to check if the vessel has all the safety gear. It is essential to have a checklist and put in the necessary items that may not be available and are vital for your trip. You will require safety and important things such as the paddles, a waterproof first-aid kit, personal floatation service, whistle, anchor, emergency paddle, and a compass. It might also be necessary to have a paddle leash that holds the paddle to the kayak.
Besides this, you should pack some essential devices that might help you in case of an emergency. You can have a water pump or sponge that will drain the water from your kayak and signalling devices to alert others when you are in danger. Therefore, get some flares, mirrors, or flags to alert the nearby individuals in an emergency.
When outfitting, ensure that you keep the security gears in the front space of the kayak and the signalling items near your reach. Compasses and whistles should be in the cockpit with you. In any way, your safety should be your utmost concern before departing for your trip.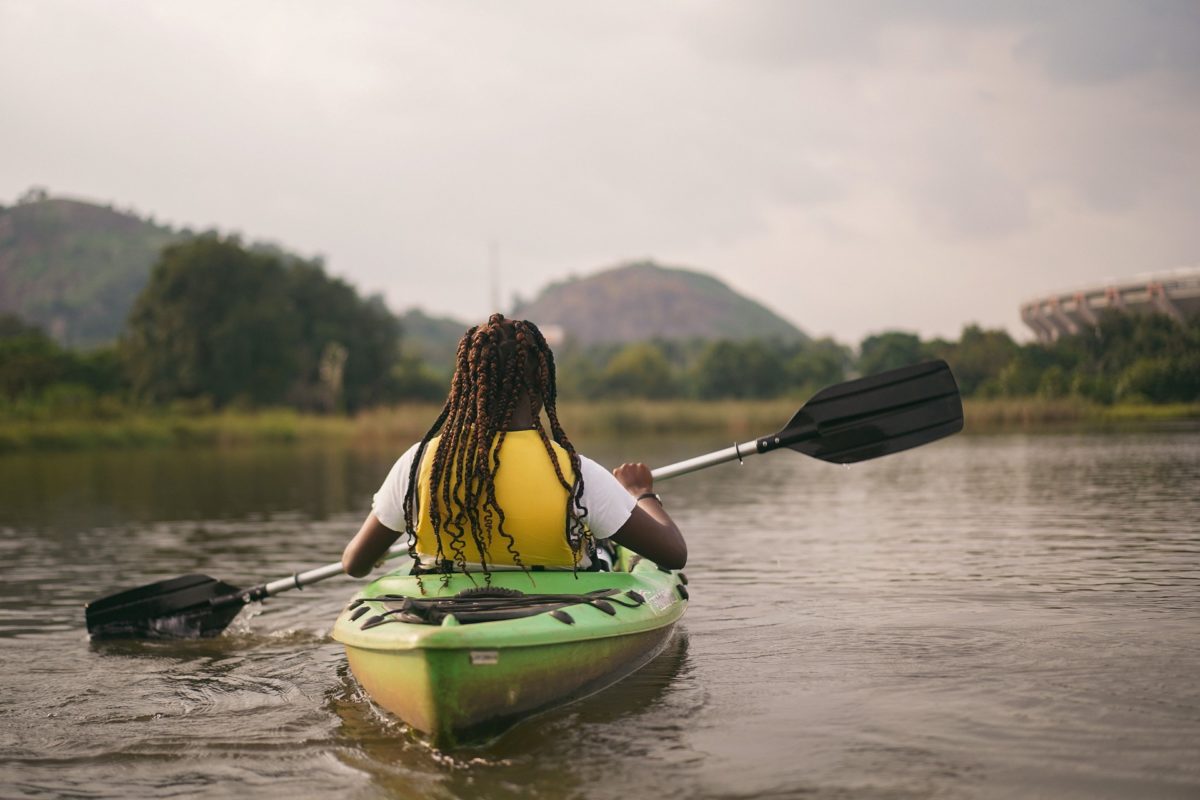 Fishing Essentials, Gears, and Storage Compartments
Once done packing the safety and security items, next will be to load your fishing essentials, gears, and the storage compartments for your projected catch. If the vessel has no rod holders, you can outfit the kayak with the assets before putting in the essentials. Most fishing kayaks will have storage spaces at the back (the tank well), which you need to prepare for your catch. Most anglers will use plastic milk crates instead of the five-gallon buckets to store their catch.
Besides the above, you have to bring multiple rods, fishing licenses, and a tackle box. You will also need measuring tape, fish grips, and a stinger – for those not practicing the catch and release method and a hook remover. You can fit the angling gear on the compartment in the storage area.
Lastly, if you are a tech person, you can include one or two tech gadgets to assist you in your fishing. Such items include a kayak light and other smart devices. Ensure you carry a power source too to power the tech gadgets. Lastly, do not forget your essentials for the trip, including having extra layers of clothing, communication devices, and waterproof cases to keep your tech items dry. Other requirements depend on personal preferences.
Preparing your kayak for fishing doesn't have to take much of your time. As listed above, your kayak will be ready for your fishing trip in no time by having its essentials and gears. Please make sure that as you enjoy your nautical adventures, your safety and that of others should be a priority.