Discover world-class freshwater and saltwater fishing in Alaska amongst majestic mountains, glaciers and an abundance of wildlife on the Kenai Peninsula. This region's dramatic scenery and landscape offers a wealth of activities for all lovers of the outdoors, especially for those who love to fish.
Located in the heart of Alaska, the Kenai Peninsula covers approximately 16,000 square miles (41,400 km2)and extends about 150 miles (241 km) southwest from the Chugach Mountains, south of Anchorage. The peninsula is separated from the mainland by Cook Inlet to the west and its eastern shores open up to Prince William Sound. The region is 90 percent wilderness, which makes it an ideal location for observing wildlife, wilderness exploration and, of course, an Alaska sport fishing vacation.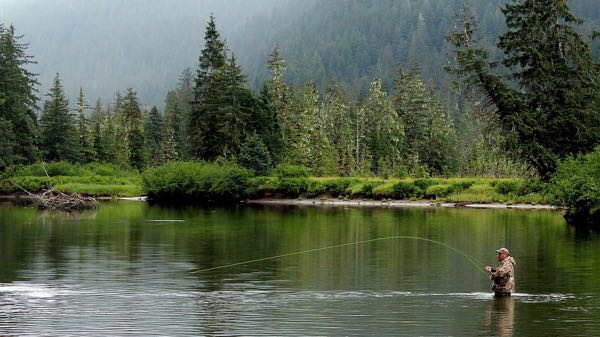 What makes the Kenai Peninsula such a sought-after fishing location is its sheer abundance of water. Rivers, lakes, fjords, bays and open ocean provide countless options for both saltwater and freshwater fishing vacations, with charters available at ocean and river fly fishing lodges. The Kenai Peninsula's river infrastructure supports some of the world's most plentiful salmon runs as hundreds of thousands of salmon make their way into the area's waterways to return to their natal streams.
Of these waterways, the Kenai River is the most well-known sport fishing destination in the region, perhaps the most popular for Alaska salmon fishing and home to several quality fishing resorts. It flows about 80 miles (128 km) from Kenai Lake to Cook Inlet and offers anglers spring-through-fall runs of sockeye (red), silver (coho), pink (humpy) and king (chinook) salmon. Other salmon fishing rivers on the Kenai Peninsula include the Kasilof, Russian and Swanson Rivers.
If you're fishing for salmon in fresh water, you'll find silver salmon through the summer and late fall and can expect to catch King and sockeye salmon as early as May, peaking in June and July (the river is closed for kings in August). Pink salmon is generally available from July through September.
Trophy sizes are abundant here, with Kings in the range of 40 – 60 pounds not uncommon (and the ten largest King salmon of all time have been landed here).
If you're planning an Alaska freshwater fishing vacation the shallow rivers are ideal for fly fishing. These lakes provide opportunities to fish for a variety of species including whitefish, Arctic grayling, northern pike, lake trout, rainbow trout, steelhead, Dolly Varden, arctic char and all five salmon species. Other than salmon, all of these freshwater species can be caught year-round (you just might have to find an Alaska fishing lodge that offers ice fishing vacations!)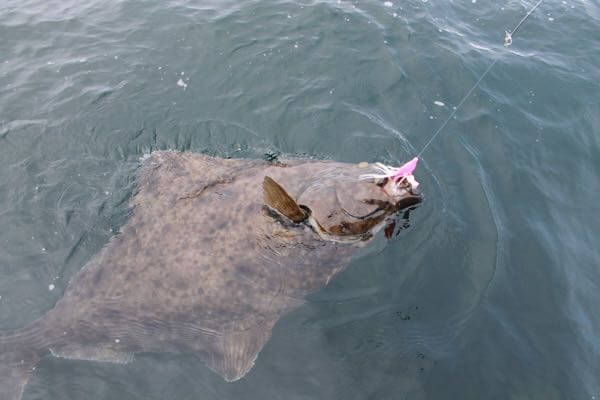 All summer long the Kenai and Kasilof rivers are an angler's dream. They offer a range of species and a variety of fishing types and techniques to ensure you'll have a genuinely world-class fishing vacation.
If it's Alaska halibut fishing you're after, the Kenai Peninsula has plenty of that too! Head to a coastal fishing resort and board a halibut fishing charter to try your luck (and your strength!) at hauling up a giant Pacific halibut. Halibut here are absolutely huge, commonly 50 to 100 lbs or more—some of the largest "barn-door" sized halibut on record have been caught near the Kenai Peninsula coast. You'll enjoy a day out on the water taking in the majestic coastal scenery of Alaska, saltwater fishing at it's finest and the chance to fill your freezer with halibut, lingcod and rockfish. All these species are available year-round.
If you're fishing for salmon in saltwater, you can catch King salmon in great numbers from May to mid-September, but they can be caught any month of the year.
Seward, long known for Alaska's largest silver salmon runs is where most salmon charters are concentrated around.
Silver (coho) and pink salmon peak in July and August but both species can be caught into the fall. Red (sockeye) salmon can be found as early as May, but you might have a more fruitful trip fishing for red (sockeye) salmon in June and July.
Where Alaskans Come to Play
The Kenai Peninsula is known as Alaskan's playground. If you love the outdoors, you're going to love your visit to this wilderness haven. Whether you're looking for an active outdoor adventure or a relaxing retreat in nature, you'll find the best of both surrounded by snow-capped mountains, lush forests and turquoise blue waters.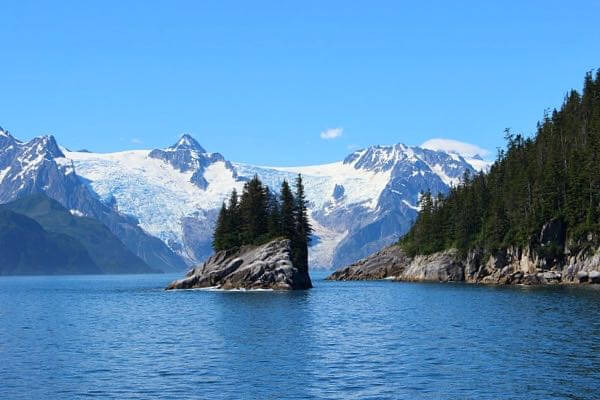 Explore Kenai's Kachemak Bay State Park on foot, by kayak or chartered cruise for 360 degree vistas of mountains meeting ocean. Visit Kenai Fjords National Park to see massive glaciers up-close, dramatic fjords and a rich and varied population of wildlife. There are several wildlife viewing tours available that will give you the chance to see moose, bears, sea otters, sea lions, humpback and orca whales and an array of migratory shore birds.
There are lots of opportunities for aquatic adventures throughout the Kenia Peninsula. Take a canoe through the Swanson River Canoe Trail System or go sea kayaking along the coast, exploring inlets and islets surrounded by the glacier-encrusted mountains of Alaska. Fly fishing for rainbow trout is a relaxing way to spend the day or if it's an adrenaline boost you're after, ride the rapids on Six Mile Creek or other river systems on a guided white water rafting trip.
The Kenai Peninsula has over 400 miles of maintained trails through its pristine wilderness. Whether you're looking for a family-friendly day hike or bike, a challenging wilderness trek or to try an ice-hike on one of the region's famous glaciers, there are biking and hiking opportunities for all ages and abilities.
For world-class fresh and saltwater fishing and endless opportunities for outdoor adventure, visit the Kenai Peninsula this summer!