The north and central interior of beautiful British Columbia is an immense wilderness that offers countless lakes and rivers filled with a diverse range of fish. The region is vast and varied in landscape, from thick forests and rolling hills to golden plains and rocky peaks. The nutrient-rich ecosystem, crystal clear lakes and plentiful rivers make this region ideal for your BC sportfishing vacation. While you're pulling in fish after fish, the exceptional scenery will take your breath away.
Fly-in BC fishing lodges will take you closer to fish-filled lakes and rivers that are far off the beaten path. You'll find many species of game fish including rainbow, cutthroat, lake and brown trout, salmon, arctic grayling, pike, walleye, yellow perch and whitefish.
Anglers can catch the sought-after Kokanee salmon, a landlocked sockeye (red) salmon that spend its entire lifespan in freshwater lakes and streams. Populations of native kokanee are abundant and widespread in north and central BC and are found in almost every major water system except the Liard, Yukon and lower Peace rivers. BC fishing resorts will give you access to kokanee runs and you'll have the opportunity to fish for them in pristine mountain lakes or in tributary streams on your fishing holiday.
Closer to the Pacific coast you can access runs of steelhead, coastal cutthroat trout and Dolly Varden. Steelhead run in the summer months. The rivers that drain into the Pacific are ideal for a BC salmon fishing vacation as they support healthy runs of chinook (king), coho (silver), chum (dog), pink and sockeye (red) salmon.
Since BC's north and central interior is so widespread, more detailed information of the species and best places to fish can be provided by your chosen BC fishing resort as they have more specific, local knowledge on the lakes and rivers they provide access to. From fly fishing vacations, lake fishing charters to remote fly-in fishing opportunities you'll find some of the best freshwater sportfishing and most scenic surroundings in northern British Columbia.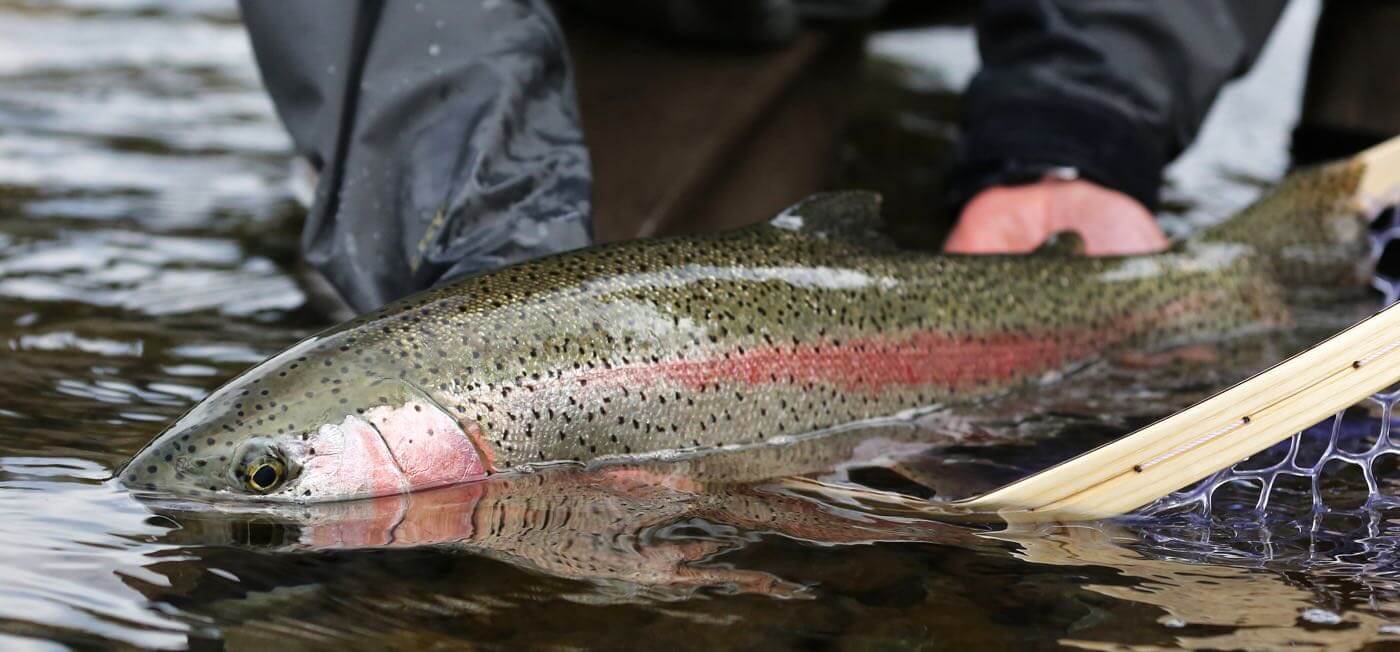 Take a drive through BC's north and central interior on Highway 16, also known as the Yellowhead. The Yellowhead is an east-to-west corridor highway that showcases the majestic Rocky Mountains to the north and the Cariboo Mountains to the south. Enjoy lush river valleys, hovering peaks and friendly communities as you travel along this scenic highway.
Be sure to spend some time in Prince George, the largest municipality in northern BC. This small city offers many cultural attractions including art galleries, museums and The Exploration Place in Fort George Park, a combined museum and science centre offering exhibits and programs for the whole family. Prince George also makes a good home-base for outdoor recreation. Drive in any direction from the city and you'll discover lakes and rivers abundant with fish, hiking and biking trails and campgrounds.
Continue along the Yellowhead through farm and ranch country before reaching the beautiful Lake District and the towns of Fraser Lake, Fort Fraser and Burns Lake. These communities provide a natural escape, without losing access to basic amenities, and are close to numerous lakes and rivers perfect for catching kokanee, salmon, cutthroat, rainbow trout and other freshwater fish.
When you get to Houston, BC, look for the World's Largest Fly Fishing Rod. This 59-foot-long fishing rod serves as a testament to the excellent fishing available in the area. Cast a line in the nearby river systems and pull up steelhead, salmon and trout.
Your journey continues below hovering mountains and along raging rivers as you pass through the towns of Smithers, the Hazeltons and Terrace, BC. You're nearing the province's northern pacific coast and will soon find yourself in the seaside city of Prince Rupert. Highway 16 doesn't completely end there though—it starts up again across the Hecate Strait on the islands of Haida Gwaii.