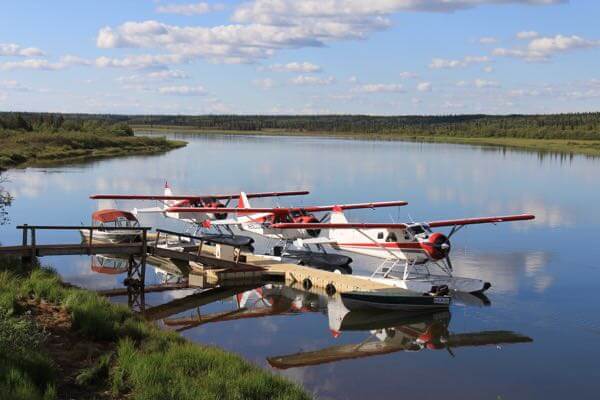 If it's a remote Alaska fishing vacation you're after, you'll find yourself far from the crowds and close to nature in Alaska's interior. This region makes up for nearly 80 per cent of Alaska and is home to the state's largest river systems. Surrounded by wildland, these rivers, along with a network of streams and lakes, are teeming with many species of fish including Dolly Varden, northern pike, burbot, sheefish, arctic char, arctic grayling, rainbow trout and all five species of Pacific salmon.
Though some freshwater fishing is accessible along the region's road system, the most remote and productive fishing spots can only be accessed through a fly-in fishing lodge. Your interior Alaska fishing guide will take you along rivers and to lakes that offer landlocked salmon and a wide range of other sought after game fish.
Though summer might be short in this part of the world, the days are endless and the fishing is non-stop. Pacific salmon enter the waterways in early June and make their way up the rivers and streams with the best King (Chinook) salmon fishing being in June and July. Fish in August and September for Silver (Coho) salmon. The Yukon river system has a populous run of Chum salmon all summer and into the fall.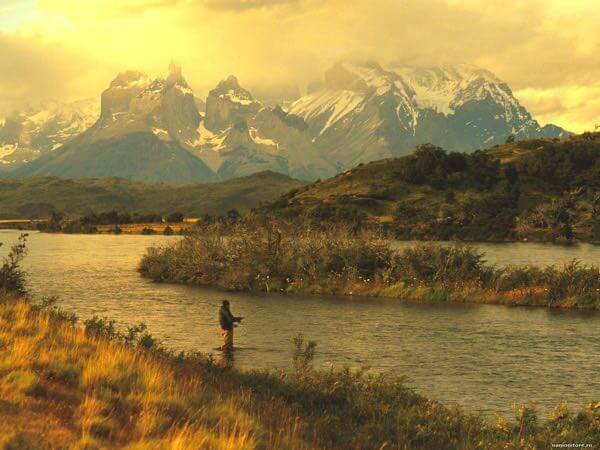 Fish for sheefish in mid to late summer. Interior Alaska is known for its large sheefish and they are often called "The Tarpon of the North". The average sheefish weighs 5 to 20 pounds, but anglers have hauled in sheefish weighing 60 pounds or more in some areas. You'll enjoy catching these beauties on your Alaska fly-fishing vacation.
There are ice fishing opportunities here in the winter months. Anglers who brave the weather can enjoy great burbot fishing on frozen rivers and lakes. You will also see little villages of ice fishing huts going for trout and land-locked salmon in the winter.
While you're fishing, expect to be treated to some spectacular wildlife viewing too. From your Alaska fishing resort or while on the river, you might see moose, black bear, grizzly bear, caribou, eagles and a variety of bird life.

North America's Highest Peak
Alaska's interior region is home of Mount McKinley, which was formally named "Denali" recently. Denali is the tallest mountain in North America with a summit elevation of 20,310 feet (6,190 metres) above sea level. This impressive peak is considered the third most isolated and third most prominent peak after Mount Everest in Nepal and Aconcagua in Argentina.
You can check out this massive mountain while visiting Denali National Park and Preserve. The park encompasses more than 6 million acres and offers a variety of outdoor activities including hiking, cycling, mountaineering, wildlife viewing, dog sledding, cross country skiing and fishing.