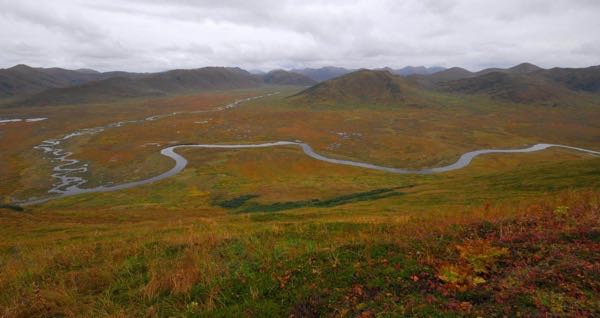 If you're looking for a remote fishing destination that is out of the ordinary, Kodiak Island is an exceptional choice for your next Alaska fishing vacation. The only way to get to Kodiak Island is by plane or boat and the public road system on the island is minimal. Alaska fly-in fishing lodges, float trip guides and remote fishing charters can take you to isolated angling grounds that offer access to both fresh and salt water fishing. You'll enjoy the lack of crowds, dramatic landscapes and some of the best salmon and halibut fishing in the world.
Kodiak Island is located off the south coast of Alaska, separated from the mainland by the Shelikof Strait. It is the largest island in the Kodiak Archipelago, a group of islands located 30 miles offshore from the Alaska Peninsula. Kodiak Island is the second biggest island in the United States and boasts Alaska's wilderness in it's purest form, showcasing lush forests, emerald hills, snowy mountains and deep blue seas. Take in this breathtaking scenery has you fish along the coastline, or on one of the island's rivers and lakes, during your unforgettable Alaska fishing vacation.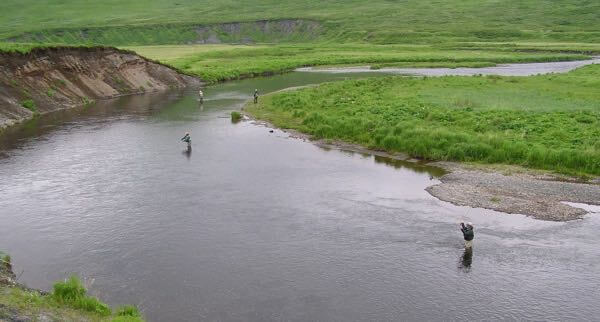 Freshwater streams and lakes can be accessed along the road system on Kodiak Island, Alaska. Fishing resorts also offer access to freshwater fishing and fly fishing opportunities in more remote areas. Most Kodiak rivers support populations of trout and a variety of salmon species. The best area to fish on a river is in the inter-tidal zone closer to the coast where the river's depth varies depending on low or high tide. As the tide comes in, you'll find a fury of hungry salmon and trout.
Fish for Rainbow trout and Dolly Varden in Kodiak Island's fresh water systems in early spring. This is when they come out to feed on minnows and salmon fry. You can also find populations of Dolly Varden in the inter-tidal zone of streams during a salmon run later in the season. Steelhead can also be found in the spring, but are primarily a fall-run fish.
As summer starts, so does the return of Red (Sockeye) salmon! Kodiak Island is home to several red (sockeye) salmon runs, making your Alaska fly-fishing vacation a very productive one. King (Chinook) salmon have been found in fresh waterways this time of year too, but mostly in remote locations that would require a fly-in fishing charter. Two of the most famous rivers for Alaska fly-in fishing are the Karluk and Ayakulik Rivers. Surrounded by untouched wilderness, these wide open rivers are a fly-fishing angler's dream.
In August, Pink salmon begin their spawning runs and can be found in almost every water way on Kodiak Island. Book your trip at an Alaska fishing lodge during August and you'll have your work cut out for you hauling in Pink after Pink! This is also a good time for beginner fly anglers to try the sport as these fish are hungry and easy to hook. You can also find Silver (Coho) salmon near the end of August but they're much bigger and easier to catch in October after the Pink runs die down. The fall is also the best time to fish for Steelhead and Rainbow trout.
Kodiak Island has many deep inlets that are well-protected from the open ocean and home to both bait fish and salmon spawning runs. If the salmon are not on a spawning run themselves in these areas, then they have arrived to feed on the bait fish. Though the timing of these runs vary on different areas of the island, anglers can fish for King (Chinook) salmon as well as Silver (Coho), Pink, Sockeye (Red) and Chum salmon generally anywhere along the coastline.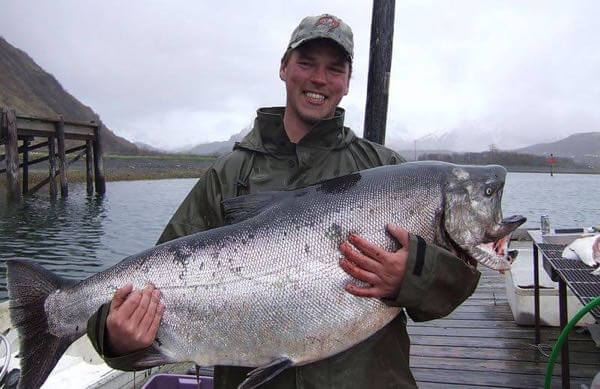 King salmon are the trophy fish of choice with record catches weighing 50 to 90 pounds! You can land King salmon any time of the year, but the biggest can be caught in May through August when they come into the region to feed.
In July and into late August you can take advantage of the high concentration of silver (coho) salmon, especially if there are spawning baitfish in the area. Catch red (sockeye) salmon runs from mid-May through mid-August. Silver (coho) arrive in numbers in mid-August and can be caught into September. You'll find Pink and Chum salmon around the island's coast in July and entering the interior waterways in early August.
Try your luck at the Annual Kodiak King Salmon Derby that runs April through May, with special derby competitions happening outside of the City of Kodiak in May and again in July. Not only does this derby offer anglers a chance to compete for impressive prizes as they try to reel in the largest King salmon, it is also an opportunity to support the region's salmon fishery. Proceeds from the Kodiak King Salmon Derby are donated to a local salmon enhancement project conducted by the Kodiak Regional Aquaculture Association and the Alaska Department of Fish and Game.
Kodiak Island Halibut Fishing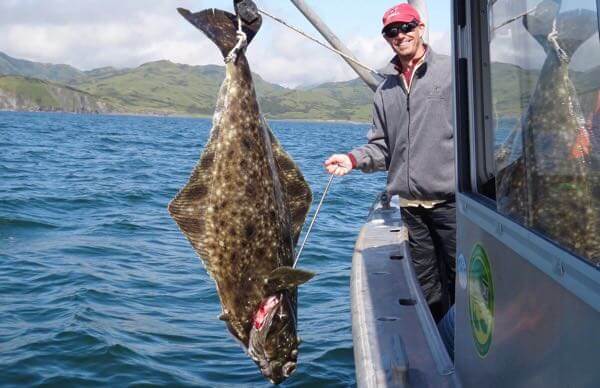 Alaska halibut fishing vacations are rewarding in the Kodiak Island region. Record weights for halibut caught by sportfishing anglers is up to a colossal 400 pounds, though sizeable halibut weighing around the 100-pound mark are more frequently caught. You can go for these "barn-door" sized halibut any time of year, but you'll get the best activity and perhaps bigger fish in July and August. Since salmon runs are also populous during this time, you can make the most of your Alaska fishing holiday and go for both! Your saltwater fishing trip will also produce ling cod and a variety of rockfish.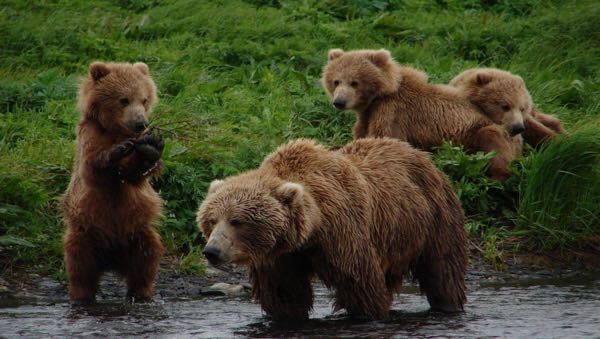 Two-thirds of the island is made up of the Kodiak National Wildlife Refuge. This protected area also spans onto other islands that are a part of the Kodiak Archipelago. Not only does the refuge contain protected rivers and streams for all five species of Pacific Salmon and other species of fish, they are also the nesting ground for 250 species of birds. You will also find mammals like the native Kodiak brown bear, red fox and river otters along with deer, mountain goats, elk, reindeer and beaver.
This wilderness is absolute paradise for outdoor enthusiasts. Hiking, backpacking and biking will take adventurers through dense Sitka spruce forests, along mountain ridges and through meadows of alpine wild flowers. If it's a water adventure you're after, explore miles of coastline and protected bays in a kayak on a guided paddling tour. Or, if you prefer to see the island at a quicker pace, travel through the backcountry on an ATV excursion and discover areas of the island that are seldom visited.
Discover the wild on Kodiak Island, it's stunning wilderness and all there is to see and do.