Listing your fishing lodge or resort is a LOW-RISK way to advertise your business and
Join the largest collection of fishing lodges and resorts in the Northwest and make sure your lodge is found by a targeted audience of anglers looking for their ideal fishing vacation.
"We have been with you for about a week & have booked three five-day fly fishing trips because of your site. Truthfully... I was surprised 🙂 Great exposure!!"
The leads I get from my listing are solid. They make my subscription a no-brainer."
"Our page looks amazing! You guys do know your stuff!"
"Looks great! I'm very impressed with your quick response and professional attitude. Thank you!"
"You have a fantastic website—I wish other regions of the world had something similar."
"You guys are doing a great job. Very happy about how things are going so far, and you work so fast!"
Frequently-Asked Questions
A: The commission plan is an alternate way to get a Premium Listing on fishlodges.com. We provide you full promotional support—everything that comes in the regular yearly Premium Listing plan—but without a yearly fee (subscription).
A commission is applicable only when we bring you a confirmed booking. If there's no booking, you don't pay anything. So all leads we send you are free!
We will be reselling your vacation packages, and you would need to agree to allow us to resell them at potentially different prices than what you would sell them for directly. Regardless of what we sell it for, you will always collect 90% of the price you sell it for directly. If we sell it for less than your "direct price", we give up the difference and take it out of our 10% commission. If we are able to sell it for more, we keep the difference
For example, suppose a package is priced at $3,000 per person with a 50% deposit, and we bring you a 2-person booking. You would receive $5,400 ($3,000 x 2 = $6,000, minus 10%) direct from the customer.
Here's how it works:
Customers request a booking with a 10% deposit via credit card. This is a pre-deposit or "reservation fee". The 10% figure is strategic—it's both our commission, which we will keep, and an amount that will fit on a credit card in most cases.
As part of the request, the customer provides the dates they are wanting to book for, plus any alternates they would accept.
The customer's booking request is sent to you. If you would like to accept the booking, just confirm it via a reply back to the customer. If you can't accept the booking, just state that in your reply. You may want to negotiate other dates with the customer. If you reject the booking or do not confirm it within 3 days, the 10% reservation fee is refunded to the customer.
With the first 10% of the booking paid by the customer and the booking accepted, the rest of the process reverts to what you're used to—the customer is instructed to pay the remainder of the deposit to confirm the booking, directly to you (with the booking not confirmed until it's paid). For example, if you require a 50% deposit, they would then pay the remaining 40% directly to you using whichever payment methods you accept. You can then collect the remaining balance as per your usual terms.
The booking plan is an alternative to the yearly Premium Listing subscription plan, and you can have only one plan active at a time.
If you require more information, please contact us.
The lodge details page is your home on fishlodges.com—a comprehensive collection of details about your property that's used to promote everything that's unique and awesome about your lodge. It gives prospective visitors what they need to make the decision to reach out to you, and makes it easy to find out how to do it (by phone, email, your website and your Facebook page). Perhaps the best part is that we'll build the page for you! All you need to do is approve it. Watch the video to learn more. Ready to Get More Bookings?
Pay-Per-Click
$3.88 per lead. Max. $50/month. No minimum charge. Cancel anytime.
Premium Subscription
$255.00 per year.
Cancel anytime.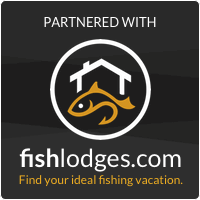 Display the fishlodges.com partner badge on your website and get US$50 credit returned at the end of every year.
Terms and conditions apply.