If you're looking for a memorable fishing destination, Alaska should be at the top of your list. An Alaska fishing lodge can offer fishing vacations for freshwater and saltwater fishing. With ocean charters, fly fishing, lake fishing, and some of the best salmon fishing in the world, it's no wonder anglers flock here for their fishing vacations. Whether you're looking for a remote fly-in fishing holiday, or want an all-inclusive fishing lodge near the ocean, you'll find it in Alaska.
Fishing vacations in Alaska vary in price. Many factors will determine the cost of your trip. This article will break down some of those factors, and give you some price estimates based on the prices on our directory of fishing lodges in Alaska.
An Alaska fishing lodge that's accessible by road can be less expensive.
Fishing lodges in Alaska that are easily accessible by road, and that are near an airport, will likely be less expensive than a remote fly-in fishing destination. That's because a drive-in Alaska fishing lodge will not have the extra cost of flying in guests, staff, supplies, and food. Remote, fly-in, or boat access only lodges will have to add the cost of airplane or boat transport to the cost of their accommodation and fishing packages.
That said, popular fishing lodges in Alaska with drive-in access often take advantage of their accessibility and promote this as a feature—after all, guests are provided with easier access to the lodge, which means less flying and more fishing. If you're looking for fishing vacations in Alaska, you must weigh the pros and cons of a remote destination or a road-accessible one.
Our advice is to choose an Alaska fishing lodge that has a good reputation and quality offerings for the type of fishing you'd like to do. Determine what kind of trip you're after, and then find a fishing lodge that can make that trip happen for you. This article shares great ideas for the best Alaska fishing trips.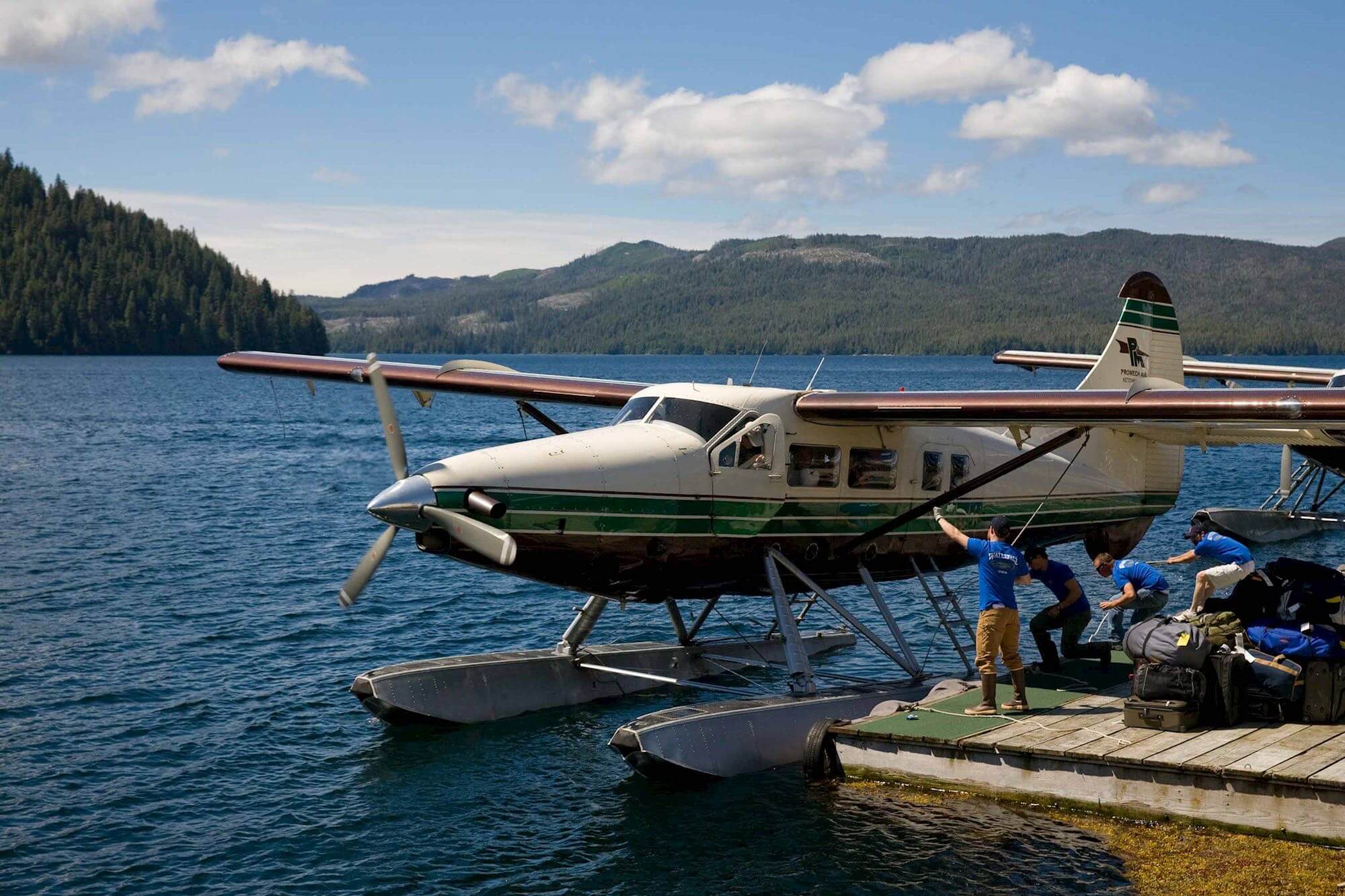 PAYING MORE FOR REMOTE FISHING VACATIONS may be WORTH THE INVESTMENT
Anglers who return from a fly-in fishing vacation, in a remote wilderness location, are often so pleased they opted to spend the extra money. In general, the more remote the fishing lodge, the more expensive the fishing vacations will be—but the more incredible they'll be too. Being in the middle of the vast Alaskan wilderness, surrounded by pristine lakes, rivers, and shorelines, dense forests, and abundant wildlife experiences are something you will never forget.
Far from the crowds, you'll have space to yourself and the fish to yourself too. Because of Alaska's vastness, and the sheer number of fishable rivers, lakes, and coastlines, you'll have a productive fishing trip here. You or your group could be the only ones taking advantage of an abundant salmon run on a remote river, for example. Remote, wilderness fishing vacations in Alaska will have you landing one fish after the other. Not only is it great for filling your freezer, but it will also be a remarkable experience for any hardcore angler. Start exploring Alaska fishing opportunities.
In Alaska, often the journey is a good part of the experience. Flying over glacier-encrusted mountains, viewing waterways, lakes, meadows, and forests from above, will prove to enhance any trip to fishing lodges in Alaska. For those traveling the coast, they'll get marine wildlife viewing opportunities as well as breathtaking coastal scenery.
What's the average cost of fishing vacations in Alaska?
Fishlodges.com offers many details—ore than you'll find anywhere else, including the lodge's own website—on many reputable fishing lodges in Alaska to help traveling anglers plan the best fishing vacations possible. The cost averages listed below are taken from operating fishing lodges and categorized by either drive-in or fly-in fishing destinations. The sub-categories are the type of fishing, including saltwater, freshwater river fishing, and fly fishing. Keep in mind that many fishing lodges in Alaska offer multiple types of fishing.
Remember that the cheapest fishing trip is not necessarily the best. It may be less expensive for a reason, usually because it is offering less. That might mean fewer hours of fishing per day, a larger guest-to-guide ratio, cheaper equipment or smaller boats.
To know if an Alaska fishing lodge is a good value or not, always check the lodge details, which of course are known for giving lots of insight on.
Fishlodges.com provides a handy metric to compare the price of one lodge relative to other lodges: the lowest per-day package price, which is always expressed as per-person. We compute this by analyzing the price of every fishing package: dividing the per-person price by the number of days of fishing included. Then we take the lowest per-day, per-person price and show that for every lodge.
When comparing lodges, don't just compare the price. A higher-priced lodge may be a better value than a lower-priced one. Here's what to look for:
Guest-to-guide ratio: Many lodges provide one guide for every for guests, but some lower that ratio to 1 guide for 2 guests. It costs the lodge more, but guests get more personal attention. And by the way, regardless of the ratio, make sure you always tip your guides.
Is guiding included or is it self-guided? By not including guides, the price should go way down, but of course you're on your own. Hope you know how to bait your hooks, operate the boat and are familiar with the waterways.
Is the lodge unique or special in some way? The lodge may be able to charge more because of some aspect that makes your fishing trip more enjoyable. This will hopefully be stated up at the top of the lodge page in the Overview section.
What's included? Scan the list—a lower price may be because some things are charged separately. A higher price may reflect more hours of guiding or the inclusion of alcohol.
Location: Like a condo bordering Central Park, great real estate has a value to it. You'll pay more for being close to national parks, glaciers or both ocean and rivers, or just a postcard-perfect picturesque view.
Accommodations and Meals: Read the description and look at the pictures. It's fairly easy to get a sense of the quality.
Boats: Don't underestimate the importance of large, well-maintained boats and high-quality fishing equipment. Unless you're fly-fishing, you'll be spending most of every day here.
Cost of drive-in fishing vacations in Alaska
Note: all prices are as of August, 2020 using the lodges available on the site at this time. All prices in USD.
Saltwater: The average price of drive-in saltwater fishing vacations in Alaska is $492.16 per person, per day.
Freshwater: The average price of drive-in fishing lodges  offering freshwater fishing on Alaska rivers is $511.41 per person, per day.
Fly fishing: The average cost of drive-in fly fishing vacations in Alaska is $432.66 per person, per day.
Cost of fly-in fishing vacations in Alaska
Saltwater: The average cost of fly-in saltwater fishing vacations in Alaska is $982.02 per person, per day.
Freshwater (rivers): The average cost of fly-in fishing lodges offering freshwater fishing on Alaska rivers is $710.30 per person, per day.
Fly fishing: The average cost of fly-in fly fishing vacations in Alaska is $707.61 per person, per day.
What about DIY fishing vacations?
If you're a good planner, you could attempt a DIY fishing vacation in Alaska. Many waterways are accessible by road, and if you're okay with a drive-in fishing trip, you can book your accommodation near locations you've researched. Learn more about DIY fishing vacations in Alaska.
However, investing in all-inclusive fishing vacations at a reputable, quality fishing lodge in Alaska, will make for a remarkable fishing trip you will remember for years to come. Having things taken care of for you mean you don't have to spend time in planning and preparing—you get to spend the most time possible where you want to be—with a fish on the line.