Alaska is a world-renowned fishing destination, and for a good reason. Whether they're fishing in freshwater or saltwater, anglers will find an abundance of fish species and enjoy memorable fishing vacations.
If you're going to journey to the Last Frontier for the fishing trip of a lifetime, you'll want to make it count. Researching fishing lodges in Alaska is the first place to start, but how do you find the best fishing lodges in Alaska?
Your research should not just be about the best fishing lodge, but also about the best destination for the type of fishing you want to do. Decide on a goal for your fishing trip, choose a location, and then search our site for a reputable Alaska fishing lodge in that area.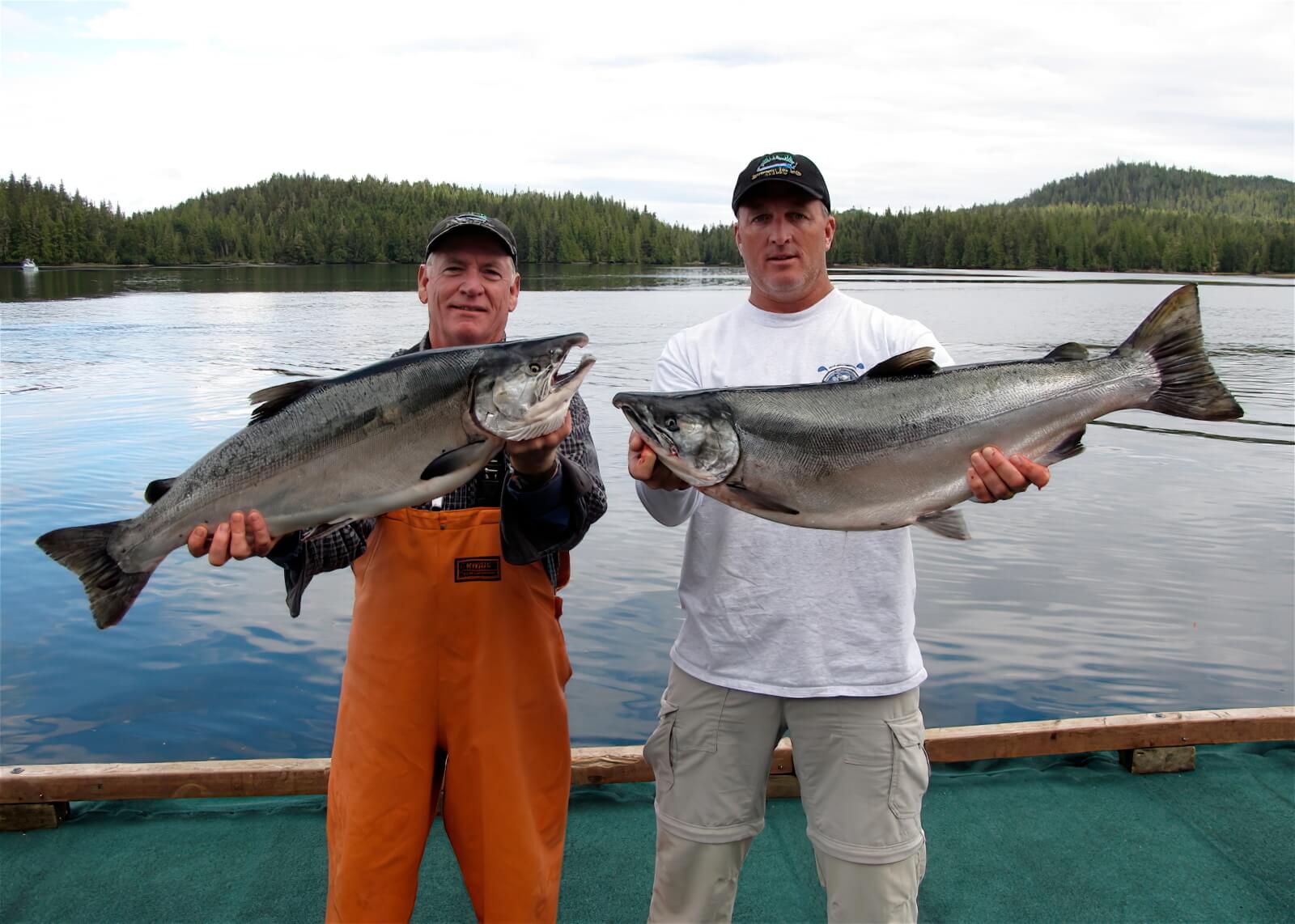 Best Fishing Lodges in Alaska for Saltwater Fishing
Alaska has nearly 55,000 kilometres (34,000 miles) of ocean coastline, showcasing stunningly beautiful scenery and a marine ecosystem that is thriving with life. You'll find five species of salmon species, including chum, coho (silver), sockeye (red), pink, and chinook (king) salmon. Halibut, lingcod, arctic char, Dolly Varden, and over 30 species of rockfish are in Alaska's open waters. If you're looking for a productive saltwater fishing vacation, Alaska is the destination for you and there are many quality fishing lodges ready to accommodate you.
Southeast Alaska
Southeast Alaska has some of the best fishing lodges in Alaska, offering saltwater fishing charters and all-inclusive fishing vacations. The region stretches 500 miles from Ketchikan in the south to Yakutat in the north. Saltwater fishing charters and resorts can be found in and near most towns and cities, and there are many remote, fly-in fishing destinations in this region as well.
For salmon fishing, head to Ketchikan, also known as the "salmon capital of the world." You can fish for several species of Pacific salmon here, including chum (Silver), chum, pink, and chinook (king) salmon, with the first runs of King Salmon showing up in May. Coho salmon runs continue into the fall, giving you more than four months of productive salmon fishing.
If its halibut you're after, you'll find it at Southeast Alaska fishing lodges. All-inclusive lodges provide charters to bait fish runs, and where there is food, you'll find big halibut. Anglers love the coves, inlets, islands, and inside passages that provide calm waters, perfect for memorable halibut fishing vacations. These same fishing spots will produce other saltwater fish, including lingcod and a variety of rockfish.
Kenai Peninsula
While the Kenai Peninsula is known for its river fishing, world-class saltwater fishing exists here too. Some of the best fishing lodges in Alaska are along the coast on the peninsula and offer opportunities for salmon, halibut, Dolly Varden, and rockfish.
Homer, Alaska is a good launching point for a saltwater fishing adventure. It is a popular fishing destination, specifically for halibut. If you want to land a 'barn door' sized halibut, you will have a good chance of doing that here. It's common to catch a 50 to 100-pound halibut here and can catch a freezer full of lingcod and rockfish while you're at it.
Saltwater salmon fishing is ample here. Chinook (king) salmon can be caught at any time of year, but it is best to go from May to September. The town of Seward is famous for coho (silver) salmon fishing and is known for Alaska's most massive run of this salmon species. You'll find fishing lodges and charters near here if you want to catch your limit of coho salmon.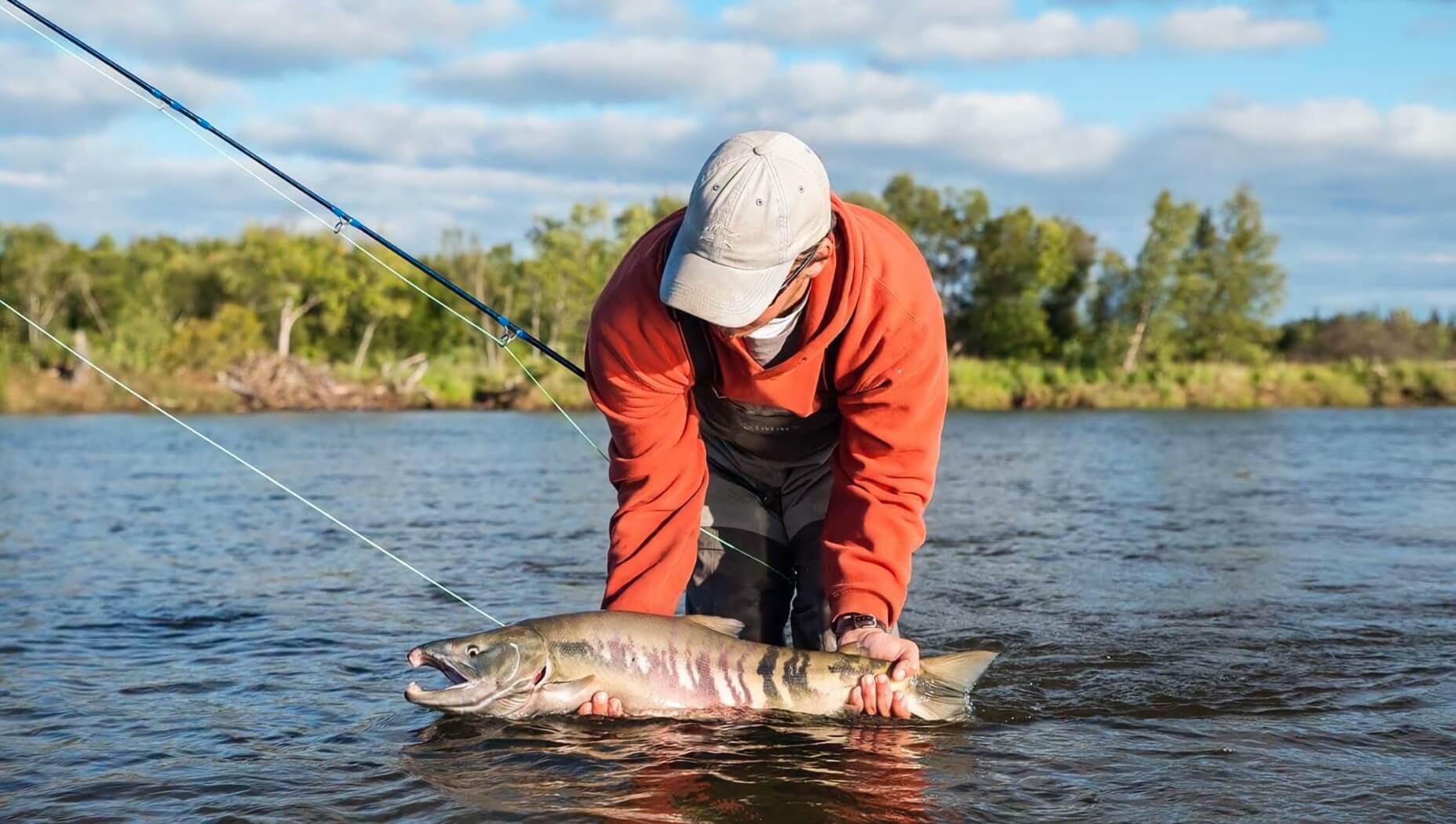 BEST FISHING LODGES IN ALASKA FOR FRESHWATER FISHING
The honest answer for where are the best fishing lodges in Alaska for freshwater fishing is 'everywhere in Alaska.' The state has over 12,000 rivers, three million lakes, and thousands of streams, all full of fish. From easy-to-access fishing lodges in Alaska to remote, fly-in destinations, the choice of where to go depends on the kind of experience you want to have and the species of fish you want to catch.
Bristol Bay
Located between the Alaska Peninsula and the most eastern part of the Bering Sea, Bristol Bay has several rivers that run into it. You'll find plentiful runs of sockeye (red), chum, chinook (king), and pink salmon in these rivers. The most abundant species of salmon are sockeye salmon, with literally millions of fish heading upriver to their natal spawning grounds.
Kvichak River, one of the largest rivers in Bristol Bay, offers some of the best trout fishing in Alaska. It starts as a deep channel and eventually runs into a braided delta where trout can be found in abundance before the waterway runs deep again. If you want to fly fish for rainbow trout, the Kvichak will be the right choice for your fishing vacation.
Kenai Peninsula
The Kenai Peninsula offers incredible salmon river fishing and is home to some of the best fishing lodges in Alaska. The Kenai River, running from Kenai Lake to Cook Inlet, is a popular Alaska salmon fishing destination. Kasilof, Swanson, and Russian Rivers also offer productive salmon fishing.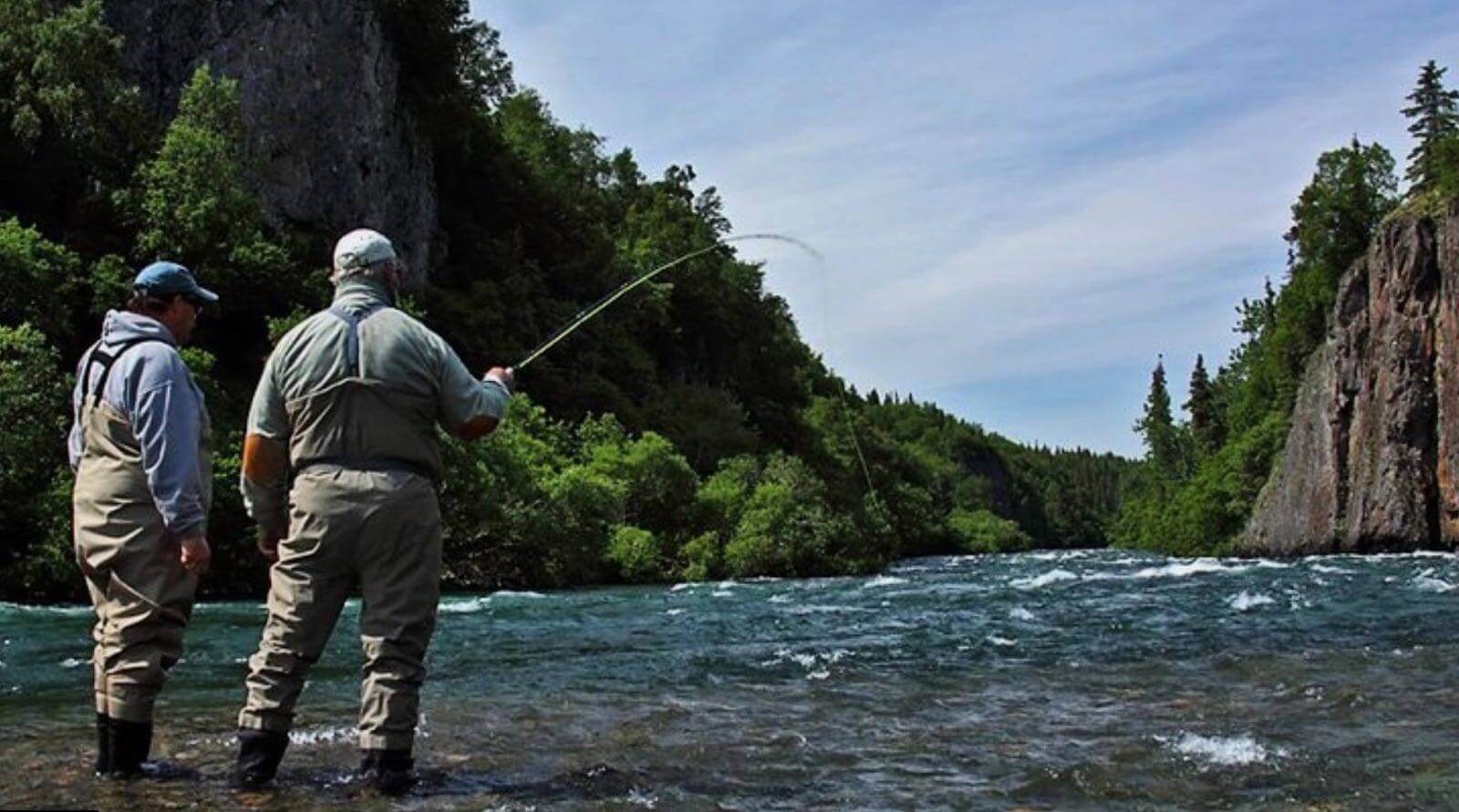 BEST FISHING LODGES IN ALASKA FOR REMOTE FISHING VACATIONS
If flying into the middle of nowhere for a remote wilderness adventure is what you want, Alaska is the best place to have that experience. There are several fly-in, wilderness Alaska fishing lodges location throughout the state. 
Kodiak Island
The only way to get to Kodiak Island is by boat or plane. This weeds out the crowds. Float trip guides, remote fishing charters, and fly-in fishing lodges provide a rugged fishing experience for anglers looking to get away from it all. Most rivers on Kodiak island have trout and a range of salmon species. Choose to fish closer to the coast in an intertidal zone, or travel far inland. Either way, salmon, trout, and Dolly Varden can be caught for in Kodiak's river systems.
Anglers that choose Kodiak Island for their fishing vacation will experience untouched wilderness and vast opportunities for wildlife viewing. The native Kodiak brown bear, red fox, deer, elk, reindeer, and over 250 species of birdlife might be seen during your holiday here.
The Interior
There are fly-in Alaska fishing lodges located throughout the state's interior and coastline, providing access to both lakes and rivers. Large river systems and networks of lakes are populated with rainbow trout, salmon, arctic char, sheefish, northern pike, burbot, and Dolly Varden. Most interior fishing lodges are fly-in access only and provide access to landlocked fish in remote rivers and lakes far from the crowds.